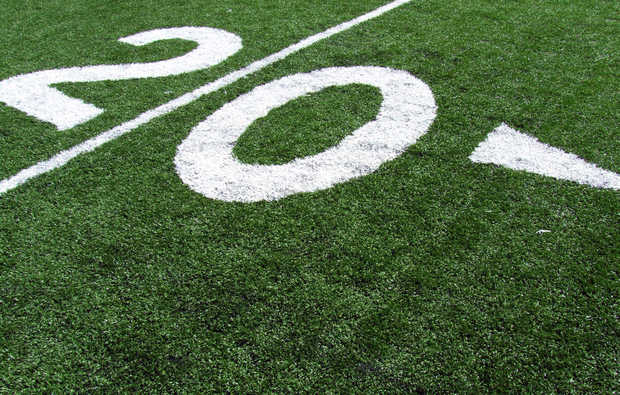 BND, By Norm Sanders, 8/18/14
Belleville District 201 on Monday unanimously accepted a bid of $1.38 million from Byrne & Jones Construction in St. Louis for the installation of new artificial turf athletic fields at Belleville East High School and Belleville West High School.
The same company also has installed similar fields at Columbia and Freeburg.
"We had three bids and this was the lowest," District 201 Superintendent Jeff Dosier said.
There were five "yes" votes with two other board members absent, according to Dosier. All of the money has been raised through private donations, advertising and other fundraisers.
Dosier said construction will begin at Belleville West first, with Belleville East construction taking place after the football and soccer season ends.
The plan now is to play Belleville West home football games at its old home, the former Township Stadium at Lindenwood University now known as Lindenwood Stadium.
Belleville East would play its home football and soccer games on its current home fields.
Althoff High School also plays its home football games at Lindenwood Stadium. The Lindenwood University football and men's and women's soccer teams also use the stadium.
"Once we finalize the contract, then we'll develop the schedule," Dosier said. "My anticipation is Belleville West will have their field built first, because there's more involved with hauling out dirt and so on. At Belleville East we have a sand-based field, so we'll be able to use some of the sub-base that's already in place. It's not as contingent upon the weather."
Dosier also said some soccer games and underclass football and soccer games involving both schools could be played at Belleville East.
Dosier said there is a chance at least one home game could be played on the new field at Belleville West, but he cautioned against too much optimism.
"It's possible, but I don't want to get anybody's hopes up," he said. "We want to do it right and not fast. It is possible that we could finish there if all goes right on the front end, but I don't want to make any promises we can't keep.
"We have to sit down and finalize the schedule because we don't have the contract yet."
Dosier said there are advantages by beginning construction in the fall.
"We feel like we got some savings on the project because of the timing of when we're building it," Dosier said. "People that build turf fields are usually not doing them in the fall season, so we believe we got some savings because of that."
Another "Turf for the Teams" fundraiser dinner and silent auction for the new fields will be held Nov. 13 at Fischer's Restaurant in Belleville. The event will include St. Louis Cardinals Hall of Fame shortstop Ozzie Smith as well as former Master's champion and longtime PGA professional Bob Goalby, who has done much fundraising work on the project.
To make a donation or for more information on the upcoming event or the new fields, please call Belleville West Athletic Director Mark Lanxon at 222-7665, or Belleville East Athletic Director Jim Loyet at 222-3730.